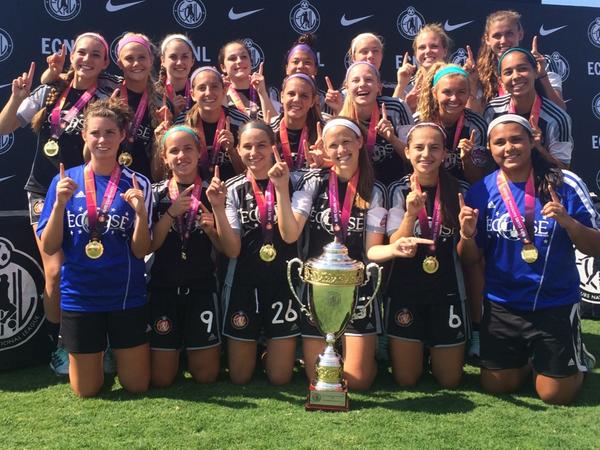 Eclipse Select U-16 ECNL team
celebrates second straight title
Eclipse Select Soccer Club's two Elite Clubs National League teams had a stellar run at the 2013-14 ECNL National Finals in Richmond, Va. The event was highlighted by Eclipse Select's U-16 group earning the national title with a 2-1 victory against the Dallas Texans last Thursday, marking back-to-back crowns for this age group. The Eclipse Select U-15s won the 2013 ECNL Final.
Additionally at this year's event, the Eclipse Select U-17s took second place in the country after posting a 2-0-1 record in group play.
For the U-16s, the Lea Waddle (Lake Forest, Ill.) scored what proved to be the game-winning goal off of a Zoe Redei (Highland Park, Ill.) cross to take a 2-1 lead. Marissa Bosco (St. Charles, Ill.) added a first-time volley from 20 yards out to push the Eclipse Select lead to 3-1 in the 68th minute. Earlier in the game, Alia Martin (Carmel, Ind.) scored on a penalty kick in the 21st minute after Bosco had been taken down in the box. That gave Eclipse Select a 1-0 lead at the time.
On Wednesday, Eclipse Select's U-16s fell short to Players Development Academy, 2-1, but the squad had already qualified for the title match.
For the U-17s on Thursday, Eclipse Select fell 1-0 to the Dallas Sting, but the runner-up finish did not dampen what was a great postseason performance for this group. Eclipse Select advanced to the final with a 1-0 victory against Players Development Academy last Wednesday. Chelsea Burns (Jacksonville, Fla.) scored the game's only goal off of an Ann Marie Niro (Barrington, Ill.) assist.
Eclipse Select forward Zoe Redei
Redei Headed to U.S. U-18 WNT camp in Mexico:
Fresh off Eclipse Select's U-16 ECNL national championship, the busy soccer schedule for Eclipse Select forward Zoe Redei (Highland Park, Ill.) continues this week. She was named to the U.S. U-18 Women's National Team for a camp that runs July 22-28 in Mexico City. The U-18 roster, led by April Heinrichs, includes 20 players. This marks Redei's third national team call-up this year after starring for the U.S. U-17 during the 2013 CONCACAF Women's U-17 Championship with five goals (tied for the team lead with Mallory Pugh).
For the latest Eclipse Select news, visit EclipseSelect.org.